Do you remember the craft storage I made/repurposed last week? Well I decided it could use a storage pot that I could hang from the second hook at the bottom, for storing things like pens, brushes, scissors, etc. And to continue with the theme of reusing/transforming existing objects I decided to make my own!
For this project I decided that an empty food tin would suit my needs perfectly, especially as there are always some empty ones kicking about, waiting for recycling day.
I started by thoroughly washing out the tin, soaking off the label and removing all the sticky residue. As I was going to paint the tin, it was important that all the residue came off, otherwise the paint wouldn't properly adhere to the surface.
The paint I used was Homebase's own brand 'Duracoat' which is suitable for using on metal. I have several tester pots of different shades of this paint left over from when we decorated our house last year. I chose a light shade of just off white for the base layer.
The tin required several layers of paint to give an even finish, so I gave it 3 thin layers. If you know you're going to need to do a few layers of paint it's generally always better to make the layers thinner, that way there's much less chance of drips and blobs! And always give the paint plenty of time to dry in between applying the different layers.
Once the final layer was dry it was time to decide how to decorate the tin! I went for dots of colour, inspired by this dinner set that Tesco currently have, which I quite like: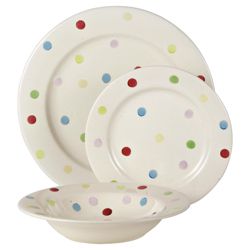 And as I have a cupboard full of tester pots I just used a few of them to paint my tin. I didn't have a specific plan for where the dots should be, I just went with what looked right. In the end I did about 5 spots in each of 5 colours, and my little pot looked like this:
To make sure the paint doesn't get scratched or chipped when the pot is in use I then had to seal it. This can easily be done by applying a thin layer of PVA glue to the whole surface of the tin, and will help to strengthen it nicely. I applied the glue using a paintbrush to make sure it had an even layer all over.
Once the glue finally dried (it felt like it took ages!) it was time to put 2 holes in the top to hang it from. To make the holes I laid the tin on its side on top of a tea towel. This was to deaden the vibrations a little when the hammering started! I took the fattest nail I could find and hammered it until it was fully through the wall of the tin, and gave it a good wiggle to pull it out again, then I repeated the same on the other side of the tin. Just make sure if you do this to watch out for the sharp pieces of metal that this leaves on the inside of the tin – don't run your fingers over the inside of the hole and cut yourself!
I then took a piece of thin ribbon (which used to be a hanging loop for some piece of clothing) and poked it through the holes from the outside, knotted it on the inside and my storage tin was complete!
Here it is, complete with a few contents, hanging from my craft organiser. Job done!
Note: As I mentioned my pot is hung using an old clothes hanging loop. A few years ago I came to the realisation that all the loops on my clothes were not necessary as on 99% of my clothes I never used them: I'm a folder not a hanger! So I started cutting them off and keeping them and you would be surprised how often a short piece of thin ribbon has been just the thing I've needed. Honestly, give it a go!